I am somewhat behind on my blogging of late, but I have decided to start blogging again. I felt like doing a blog for everyday that I am away, feels a little to much. I am not the sort to keep a diary and if I completely honest, I am not sure something interesting happens everyday. So I have decided to keep these blogs a little bit shorter, give only the highlights, have more photos and rant a little less. I feel like some of blogs were coming off like I wasn't enjoying myself or that I was hating life. I think when you travel alone and you are in your own head soo much, it is easy to treat a blog as a place to vent out rage. So I am going to keep the blogs positive and upbeat from now on.
Getting to Uruguay from Brazil was a long process, which involved 2 flights and 16 hours. I used the time to use Duolingo to brush up on my Spanish. I had been using the app for two weeks at this point and it didn't really help in Brazil, the Spanish would be extremely useful for the rest of the trip. Landing in the airport, I already felt the difference from Brazil. The country had a different feel. After my long travels, I decided to treat myself and got myself a McDonalds. I decided to put some Spanish to action and ordered without error. With a big smile, I eat my 10 nuggets meal, con fanta and connected to the wifi. After messaging my girlfriend and family telling them I was alright, I ordered an uber. After a little trouble, I got in the uber. As uber isn't exactly illegal in many countries and areas I had travelled to, I got into the front seat. After getting out of the airport traffic, the drivers ask me where I was from in Spanish. As this was a lesson I had done, I had I was English and I lived in London. I then said I was sorry that I only spoke a little Spanish. He replied in English, "That's okay, what part of london did you live in. I lived there for 2 years". We started chatting and asked him about his country. He was extremely knowledgeable, told me of the history country, it's exports and government. He also took it apron himself to point out interesting landmarks, naming them and giving me a little history. I have never had such nice treatment in a taxi and honestly, the drivers tour, might have better some paid tours. After such a long trip, I didn't have much time on the first day, so it was all I could do to walk to the beach and take a look around.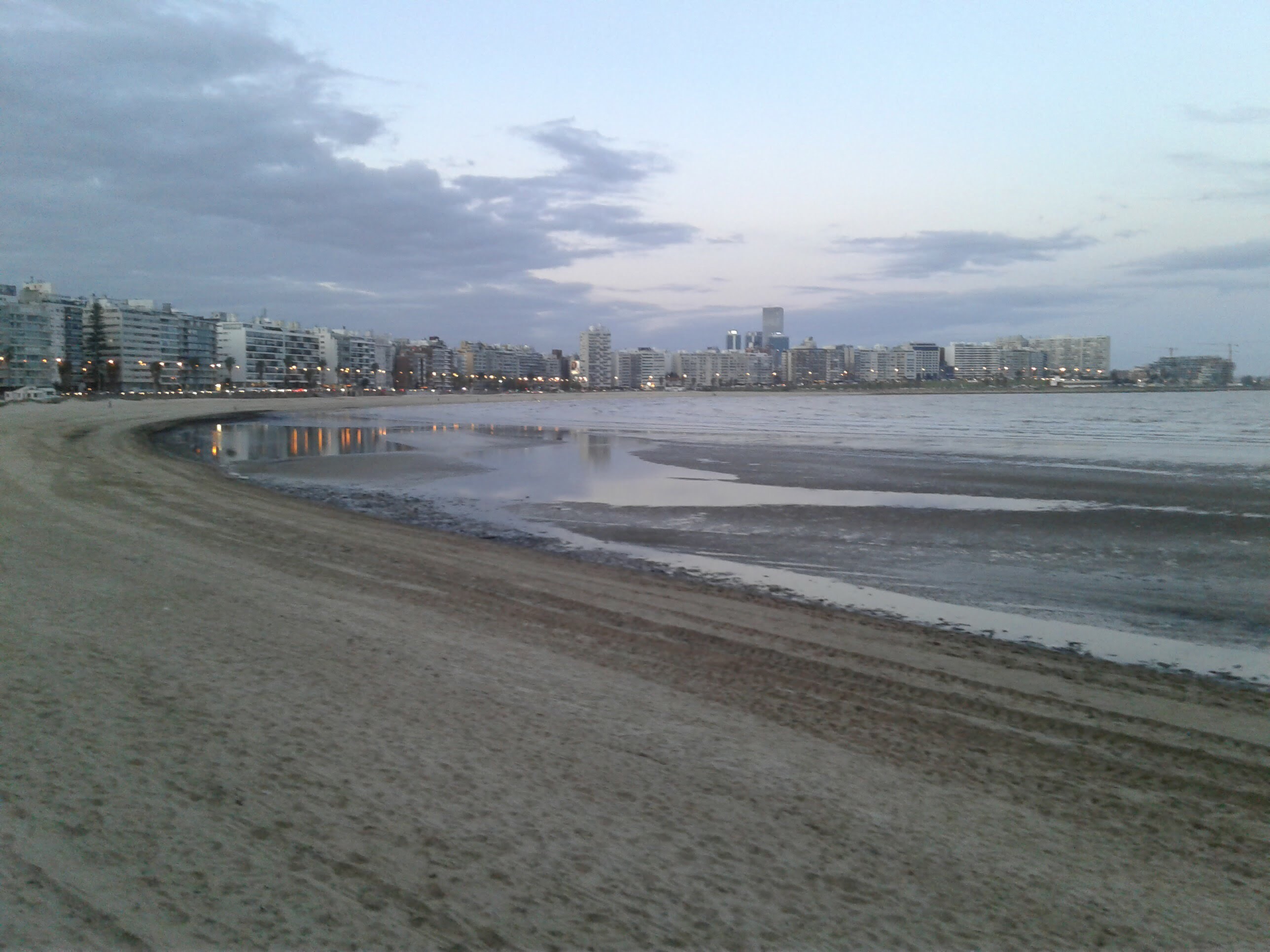 Second day, I got up early, had a massive breakfast and headed out. I was told at the desk that it was a bit of a work but walk into town. I thought it would take around 1 hour, but it took nearly 1 and 45 minutes, so I was extremely tired by the time got into two. The first thing I noticed about the walk into town, that were lots of really big tech company's offices in montevideo. I spotted Microsoft and IBM on my way in, but there were others. I also noticed some really nice older buildings. It does seem like Montevideo takes care of it's history and it is an important part of them. The other big thing I noticed, which was the weirdest thing to me was everyone was carrying with weird pot and container of hot water. It is turns out that this a kind of tea, the pot it full of leaves. I didn't see a single person without this weird tea, even children were carrying a small pot. It was weird, as I had never heard of this and it felt like I was a man from another world for a minute. It turned out the 2nd of October was an extremely good day to into the centre of town, as all the activation were open and free. They have some sort of public holiday on these days to kids interesting in history. It was extremely busy but I was everything for free. I tried a local treat, but was basically fried bread. Fatty but tastey.
Getting back to the hostel, I quickly started talking to the lady who worked there. She was a very smiley and nice lady, who invited me and Germany guy to partake in the local tea. She explained that everyone is obsessed with the stuff and it is a very social thing to share the tea. We were quickly joined by an Argentina woman, who I bonded with straight away with over game of thorns. We also joined by an Irish guy travelling around Uruguay and trying to stay out of trouble with a new girlfriend back London. Also with Carlson, a german with a wonderfully dark, weird and witty sense of humour, I had a very fun evening drinking. When we got hungry, people went out for snacks and shared them. It was a really nice vibe and I stayed up way to late talking to them as I was enjoying myself.
Day 3, as I was hung over and feeling lazy, had one of the laziest days of my life. Someone put the Star trek movie on the tv and watched that. Lazy around and finally cooked BBQ. In the evening we went drinking at a local bar. Got a little drunk and went home. On the way back, we walked passed the Montevideo sign and decided to get an epic photo.
I was sad to leave Montevideo, the people were super nice but I had plans to meet Laur in another country, so I had to get moving.