There is a lot said online about the salt flats of Uyuni, most of which is true. There really is nowhere on earth like the salt flats. The standard tour takes 3 days and 2 nights as there are more things to see than just the salt flats.
I will start this post with some advice for anyone thinking of doing the tour. My advice is simple: research the company you do the tour with and spend a little bit of extra money. When researching we found that most of the companies are just travel agents. This means they do not directly employee the drivers and just subcontract work to local driver. The Bolivian govement only lets Bolivian drivers on the flats. This means a couple of things, firstly it really is a mixed bag of who you will get as a driver. There are stories of rude and even drunk drivers. Secondly, if the car breaks down, that driver is on his own and can't call for help. We got around these issues by finding a company that was also registered in Bolivia and had offices there. We also paid a little more for an English driver. This meant the driver wasn't just a local hick, but had some eduction as he spoke our language.
We were picked up from hostel in San Pedro de Atacama at 7:30 in the morning. From there we drove to the Chilean border and crossed to the Bolivian side. We met our driver Oscar, a very smiley Bolivian man. As we paid for an English guide, it meant we were in the jeep with other English-speakers. The rest of the jeep was three Irish lads who were travelling around. Oscar was extremely car-proud and gave us a massive leacture about not slamming the cars on the jeep. Another very good sign, as this meant he really cared about his jeep and hopefully it wouldn't break down on the way. The first thing we saw was bubbling geezers. These were pretty amazing and we were only a little bit put off by the fact that a couple of tourist were burnt and killed by them just 3 months previously.
Secondly we saw a green lagoon. The green colour comes from copper extracts in the water.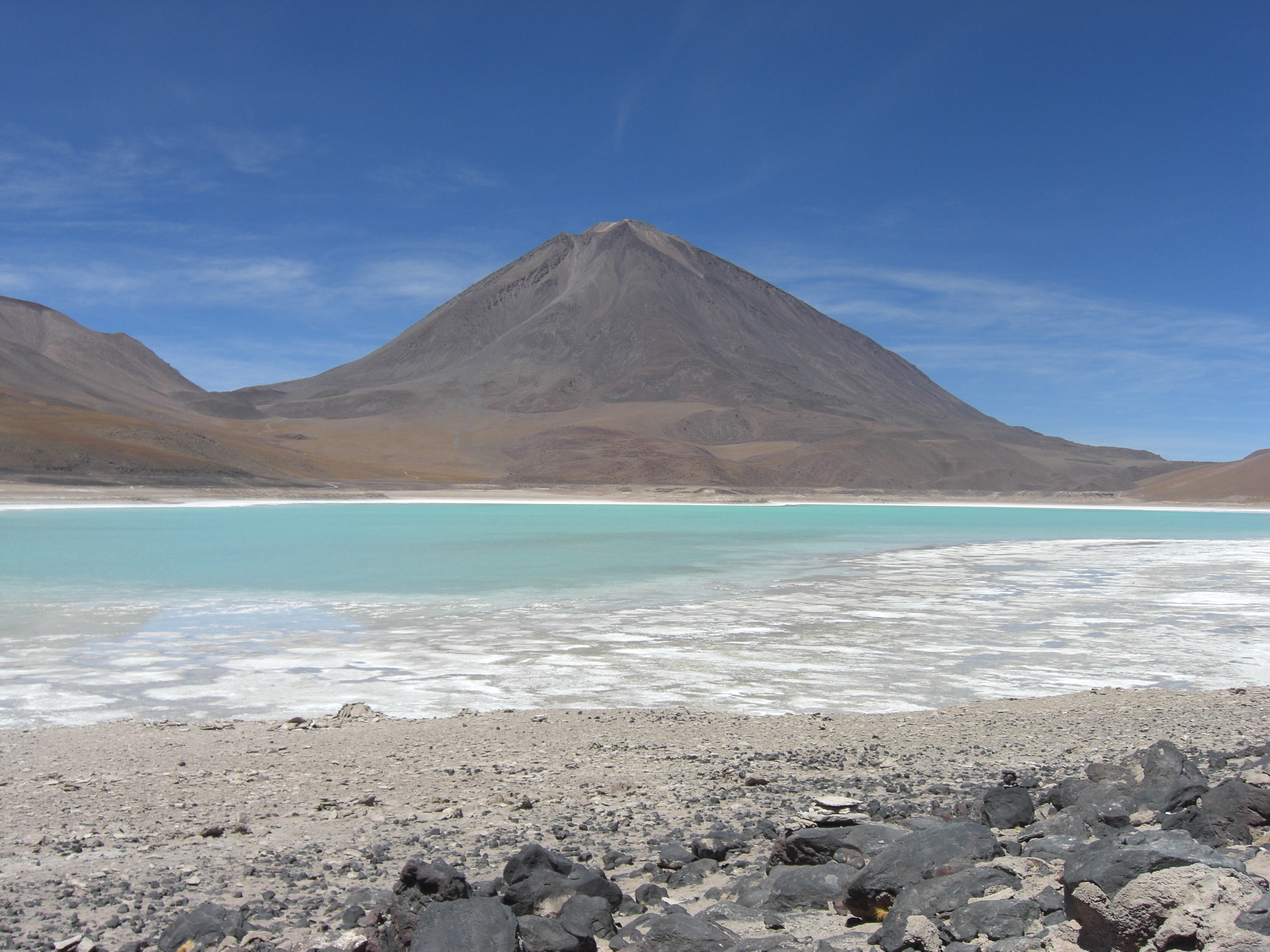 Thirdly, we saw a red lagoon. This had a lot more wildlife, as the red colour of the water came from millions of microorganisms. We call these same microorganisms in the western world sea monkeys. These sea monkeys feed hundreds of flamingo and give them their pink colour. Also surrounding the water there were many wild llama.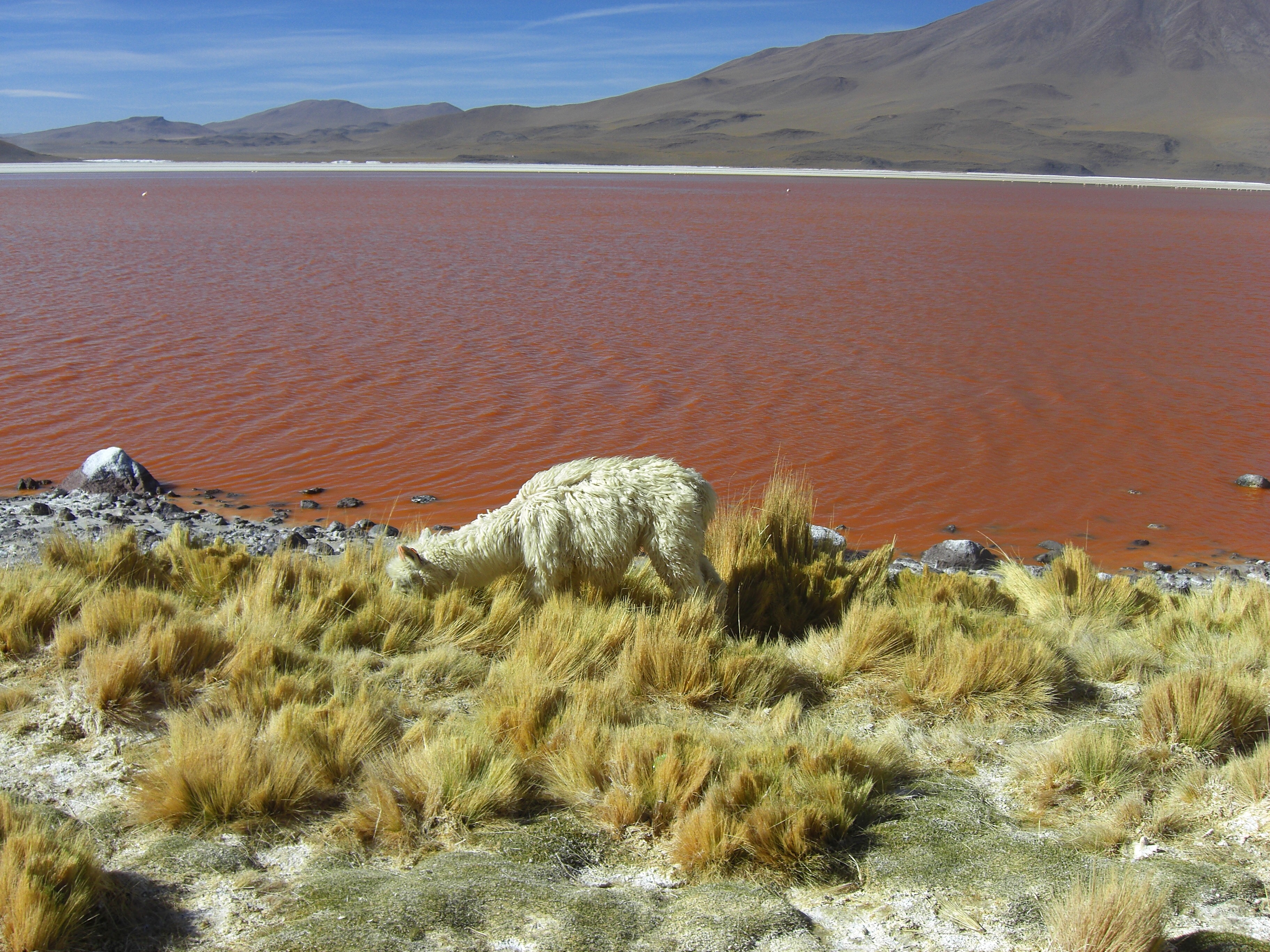 Then we drove back to the refuge for the night. It couldn't really be called a hostel as it didn't have electricity and running water. Also at 4200 meter above sea leave, it was amazingly cold and all of us were suffering from altitude sickness. With an extremely early start looming, we tried sleep. The key word being tried, as at that altitude, we all didn't eat well and had banging headaches. Not to meantion the nearly freezing room with no heating and concrete beds. Needless to say we got little sleep.
We got up for 6 and after a quick breakfast of cold pancakes, we were off. The second day went much like the first. More lagoons and lots of driving through the desert. It is a weird feeling looking out the window to see sand for miles and miles. Very peaceful and a little worrying as there is on help coming. We ended the second day at a salt hotel. This is, of course, a hotel made of salt. After a reasonable steak dinner and a bottle of wine, we had a decision to make. To get up a 3:30 to see the sunrise or to get up at 6:30 and miss it. After a vote, me and Laura we out numbered and it was decided to miss the sunrise. To be honest, it was much better this way, as we hadn't slept for days, it meant be were rested for the next day.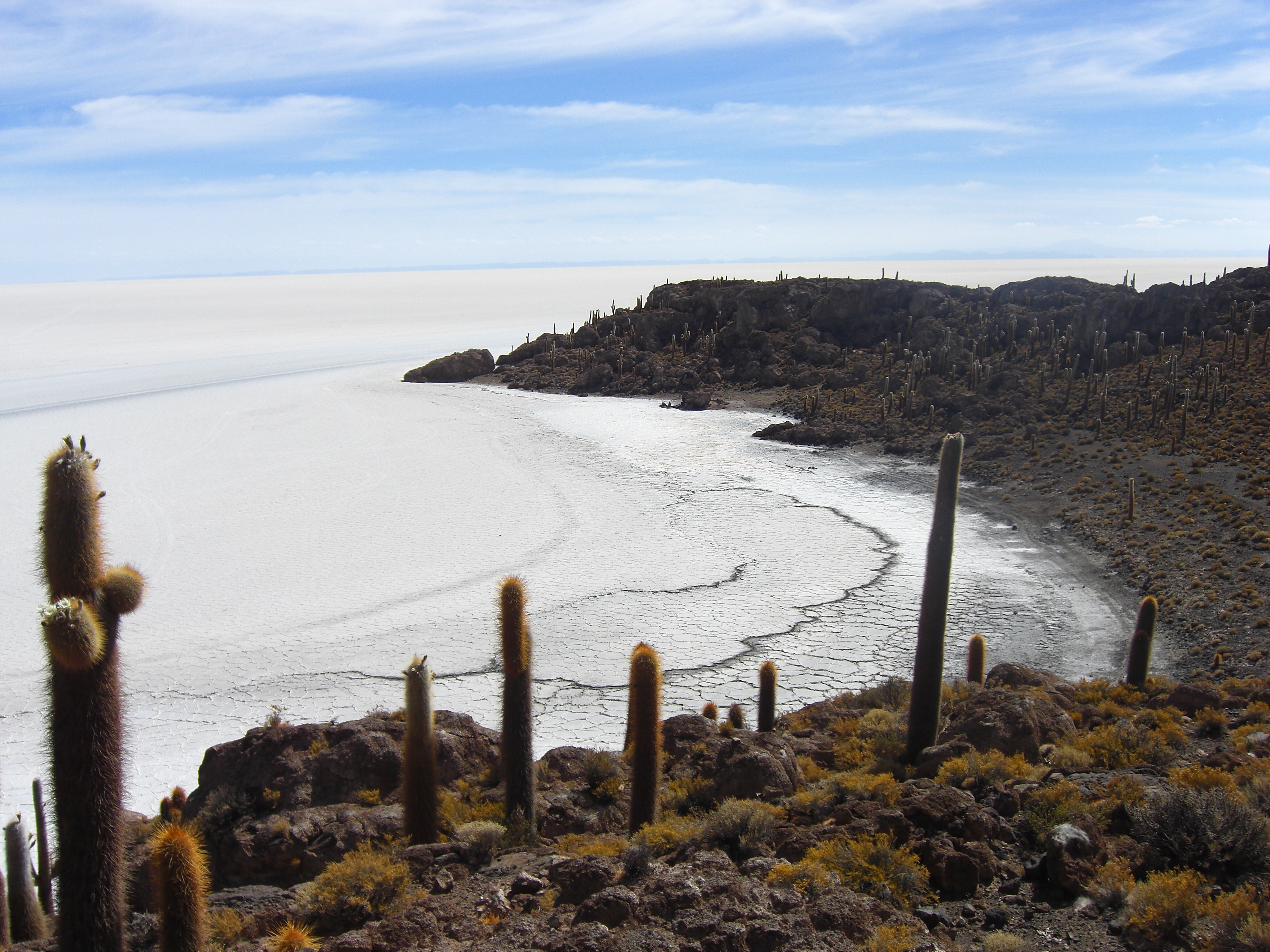 Day 3 started quiet, as we seemed to be the only group that opted to sleep in. This was great for us, as we didn't see other group for most the rest of the day. Pretty quickly on the first day we got into the salt flats. Nothing can compare for the sheer nothingness. It is just white and white as you can see. Driving in it is relaxing as it is like a white noise machine for your brain. How drivers don't fall asleep I am not sure. First stop is fish island. A small patch of land in all the salt. Interesting because of all the cactuses.
The second stop was the big show. The largest patch of clear flats. Truly breath taking. We saw that the touristy thing to do was to make these staged photos, where you use the white of the flats and its strange perspective to play tricks to get silly images. Not feeling like we wanted to miss the full salt flats experience we gave it a go. Here are the results.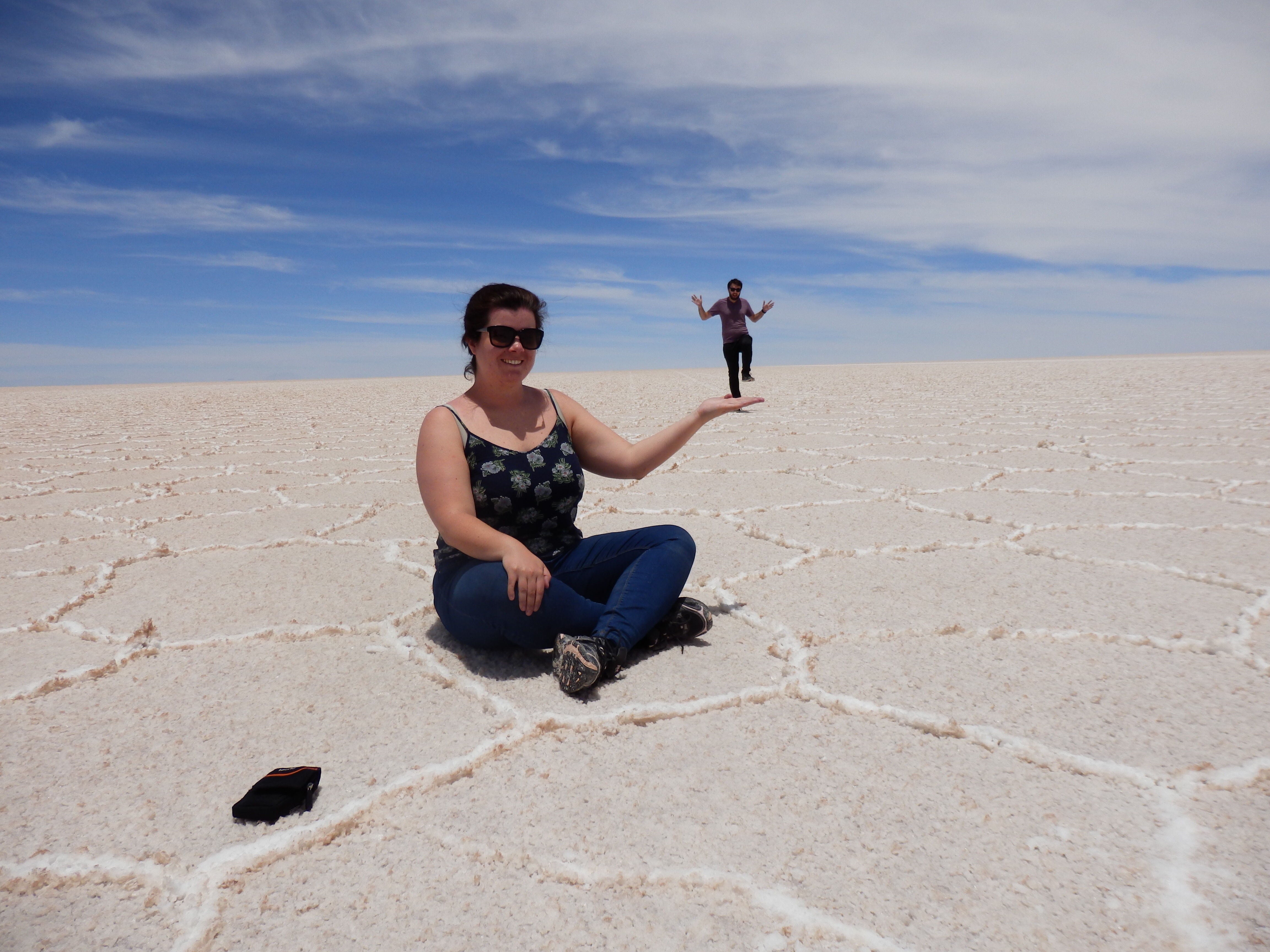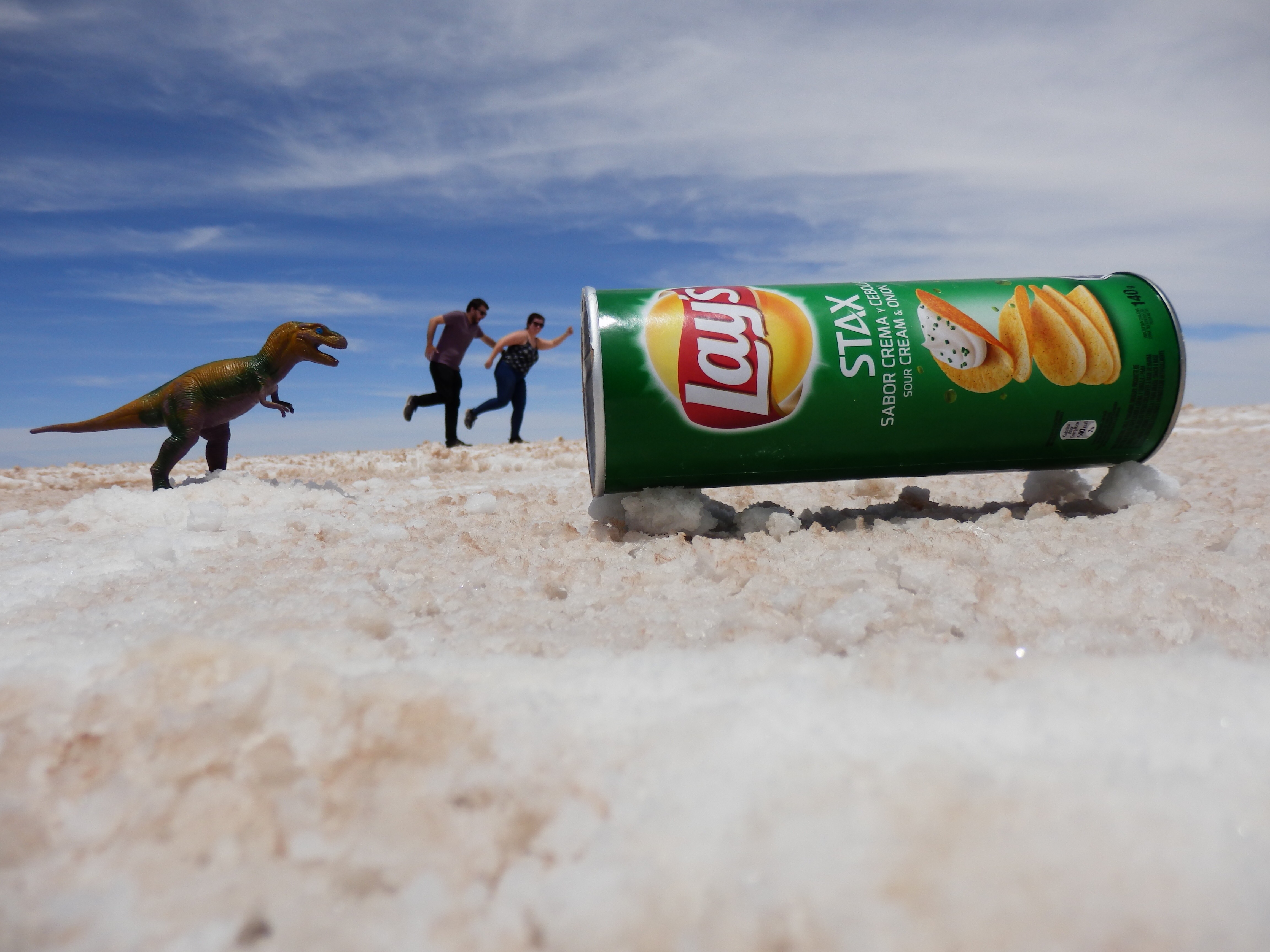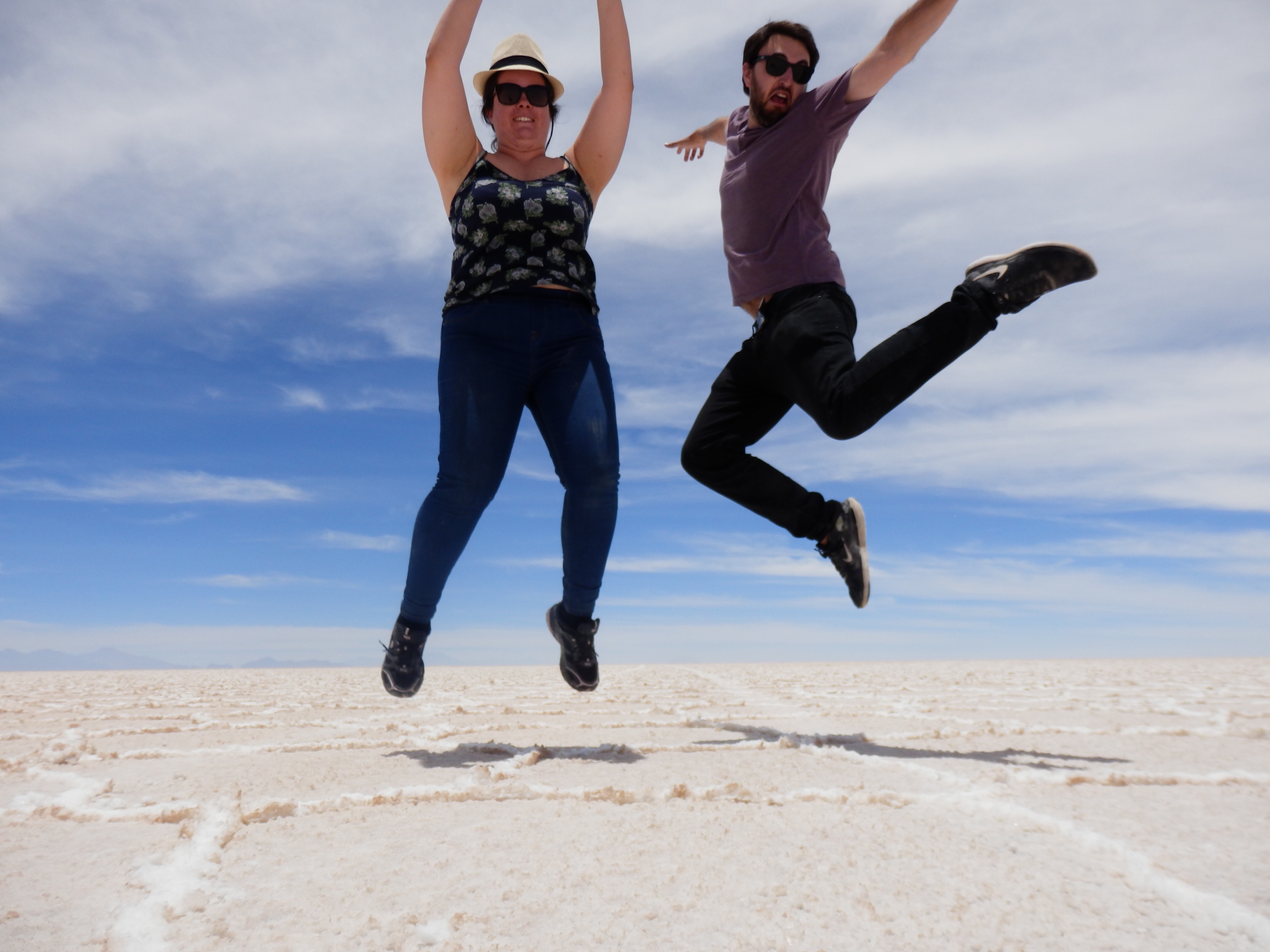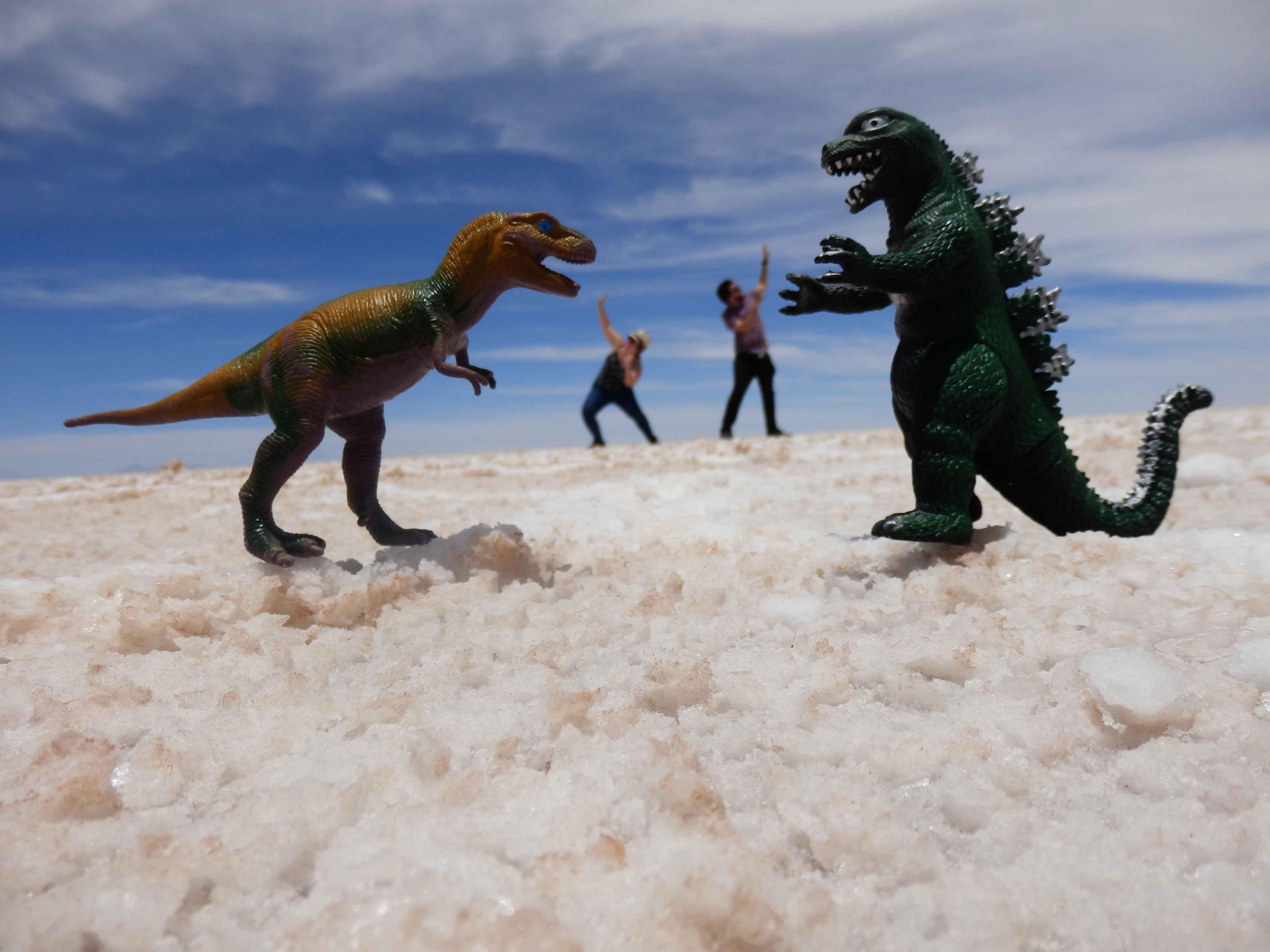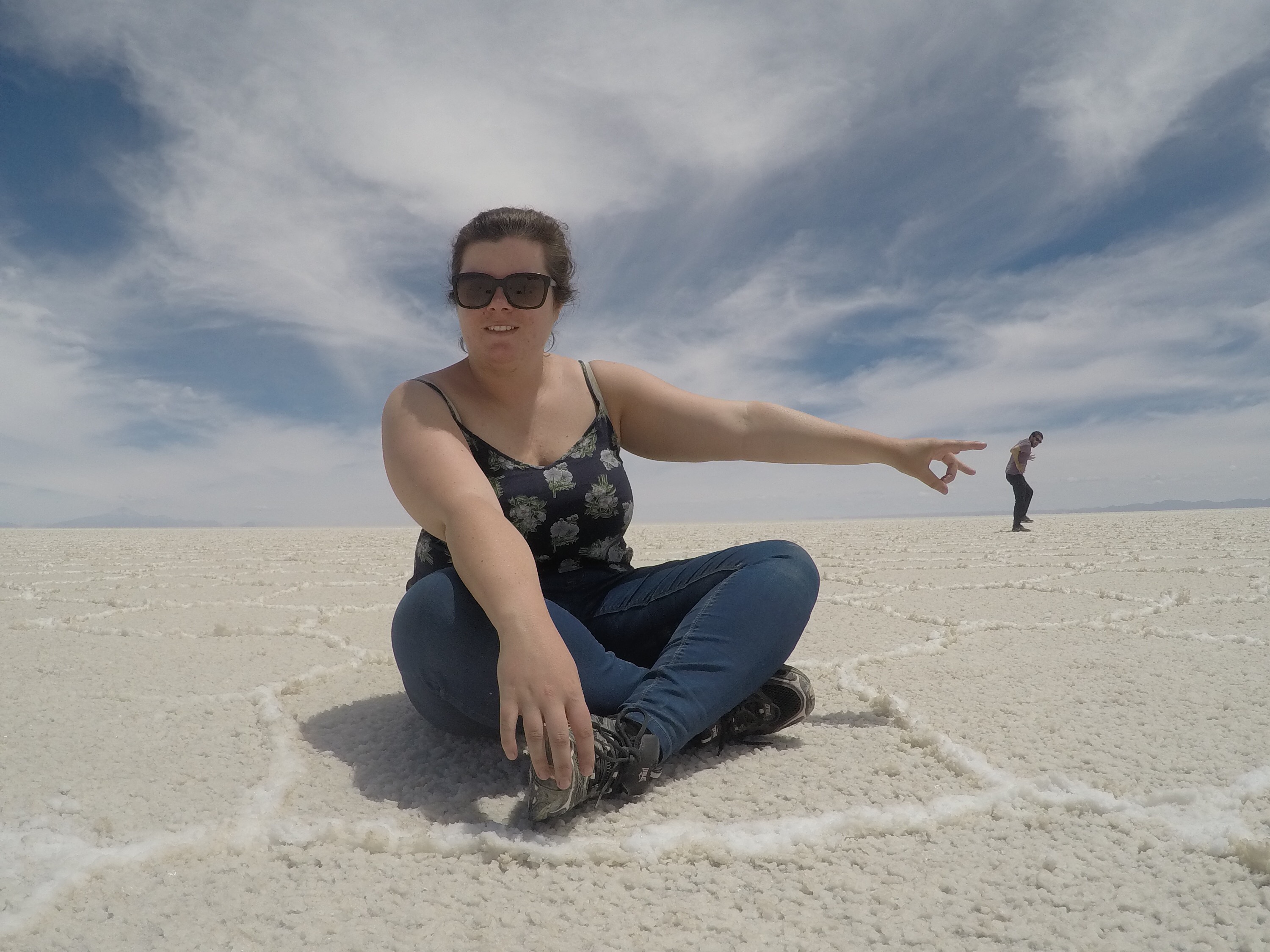 After a lunch at another salt hotel, this one in the middle of the flats, we headed to our final stop. At this point I was getting a little sad. I had really gone to like the people in the jeep. Our driver was a smiley and interesting guy. Also our Irish friends were funny and charming too.
Final stop was the so-called train cemetery, with a collection of broken 50-60 steam trains, that for reasons unexplained were just leave at uyuni. It makes a pretty sight.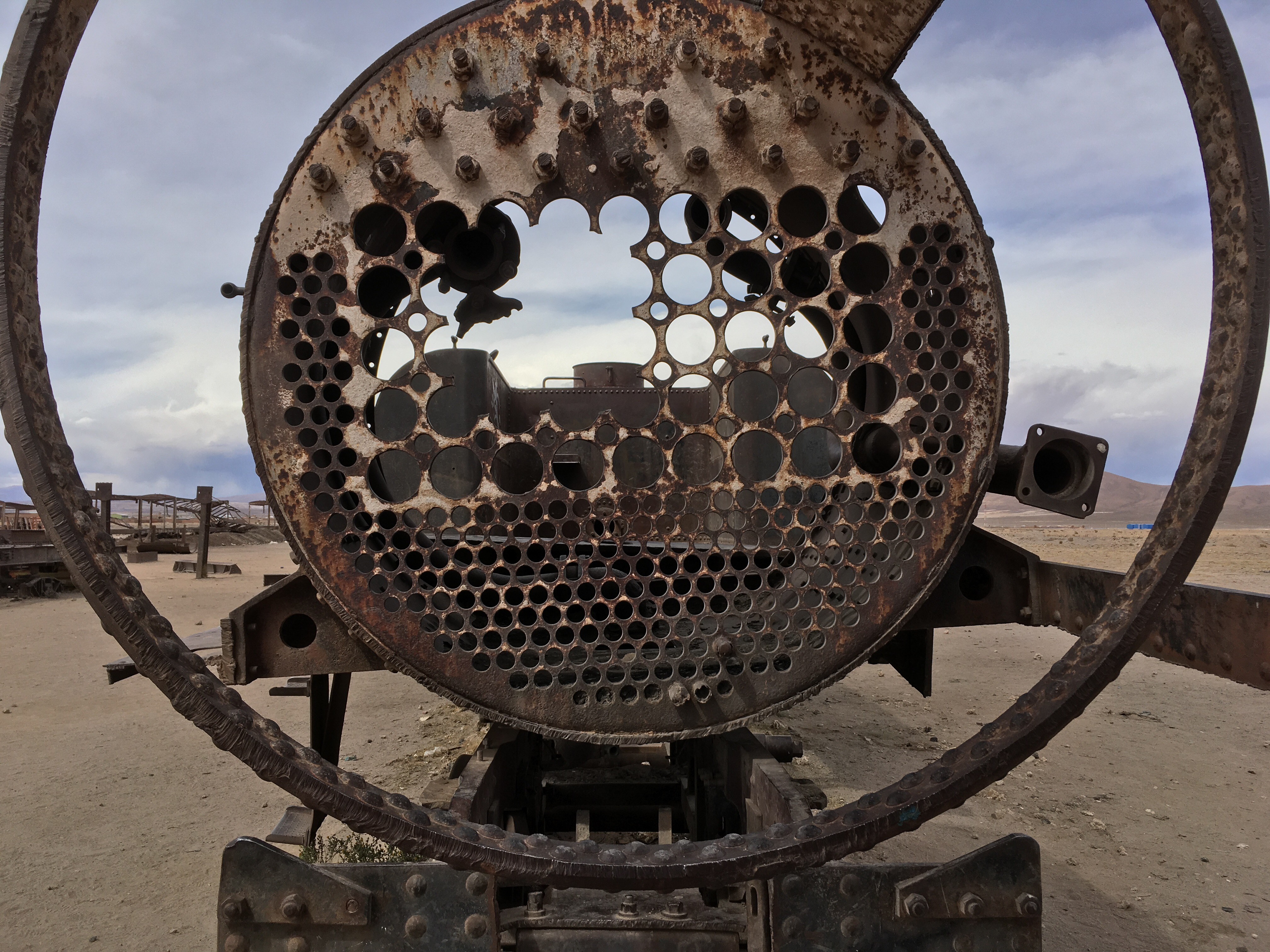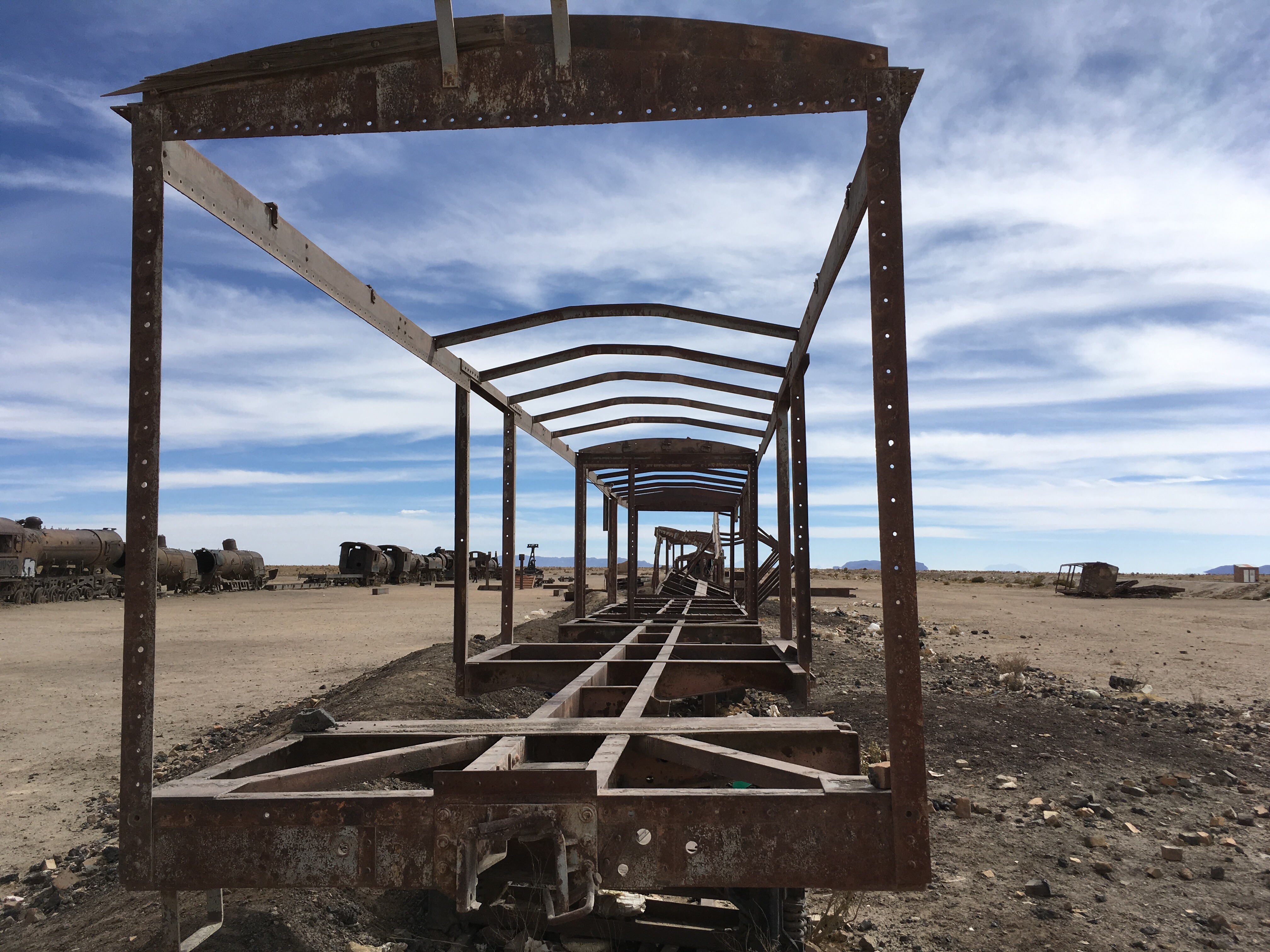 Final getting to uyuni we said our goodbyes. Honestly, it was one of the highlights of my trip. It was hard at points, not eating or sleeping, but I think in the end, worth it.