Having enjoyed Paraty soo much over the last couple of days, I decided to take a break from travelling and enjoy the city for a couple more days. With the stress of losing my phone and general bad weather, staying in the town, meant that I could really enjoy it. I had a late breakfast at the hostel, enjoying my scrammed eggs and toast with a beautiful crane.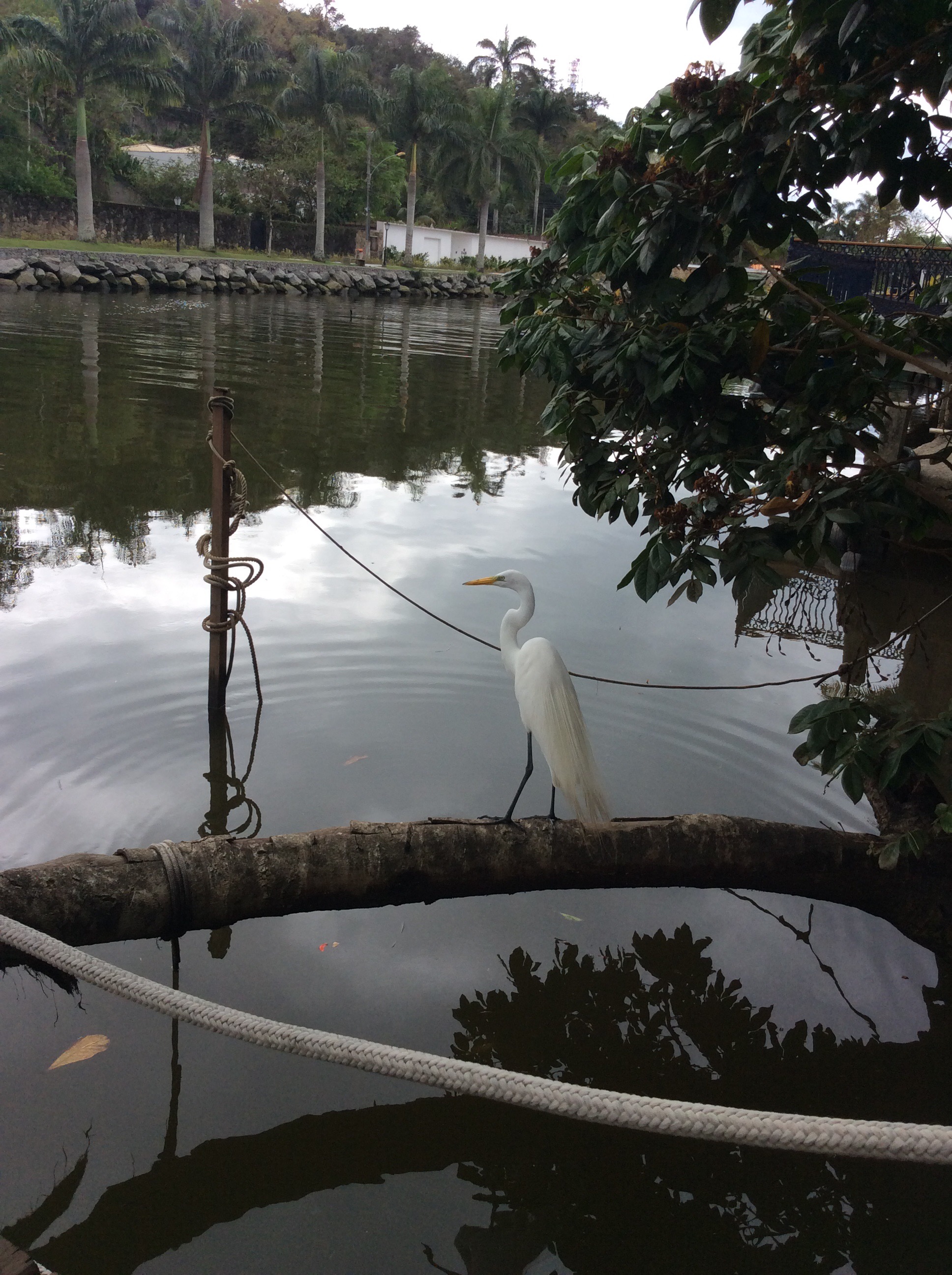 He seemed to be enjoying his breakfast too, finishing a massive fish before my eyes. The rest of day 22 was taken with chilling out in the hostel on a hamick, drinking beer and writing up blogs. Not a bad day in all. In the evening, I had arranged a city tour of the old town. Well worth the money and really got a sense of the town. Paraty is a city that dates back over 400 years and was a hub of trade. It was a hub for silver and diamonds trade, which brought a lot o money to the area. By in the 1800s, it was one of the mayor hubs for the slave trade. In fact 8% of the 6 million slaves went through the same town of paraty. On the mayor things you find out when looking through the city it that it's ruling class was freemasons. Because of this, it means that the town had broken into a very strict class system. White men, white woman and black slaves. For that reason they were three of everything in the town, hospitals, churches and homes. Really interesting to see the different between them and how paired down the slave churches were. But even between the free mason masters there were levels. The free masons had special patterns on there houses to denote that they were a mason. These patterns can be translated but their meaning is only known to other of the clone. The high classes can be denoted by the showing of pineapple in on the fact of there house. Also the oddly shaped streets and dead ends were on purpose. The town has no pattern because it makes it hard for no locals to get around, making it harder for people to invade. It is a beautiful city and one that has remained so beautiful because of the strict rules put in place in 1945.
Day 23 was another chill day, with my spenting most of it at the beach. The weather was nice so i just enjoyed getting some sun. Check out this view. Ignore the woman in the way.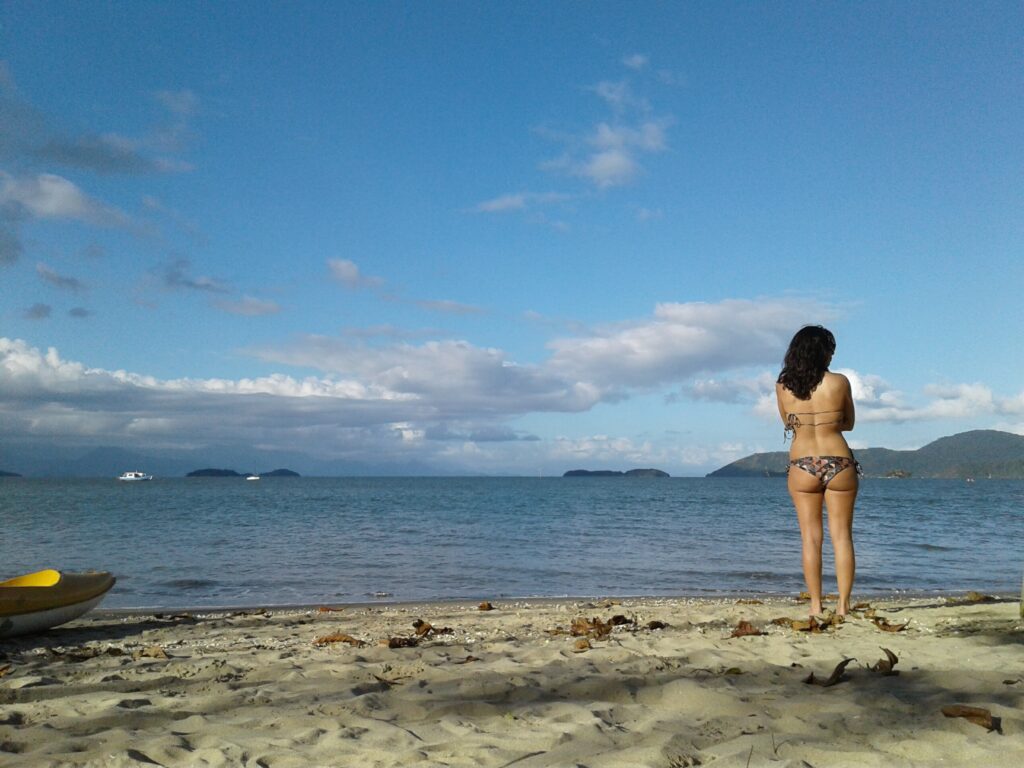 On the way back to the hostel I walked a different way home by the river. You can see lots of the locals using small boats or surf boards to make their way home. Very cool.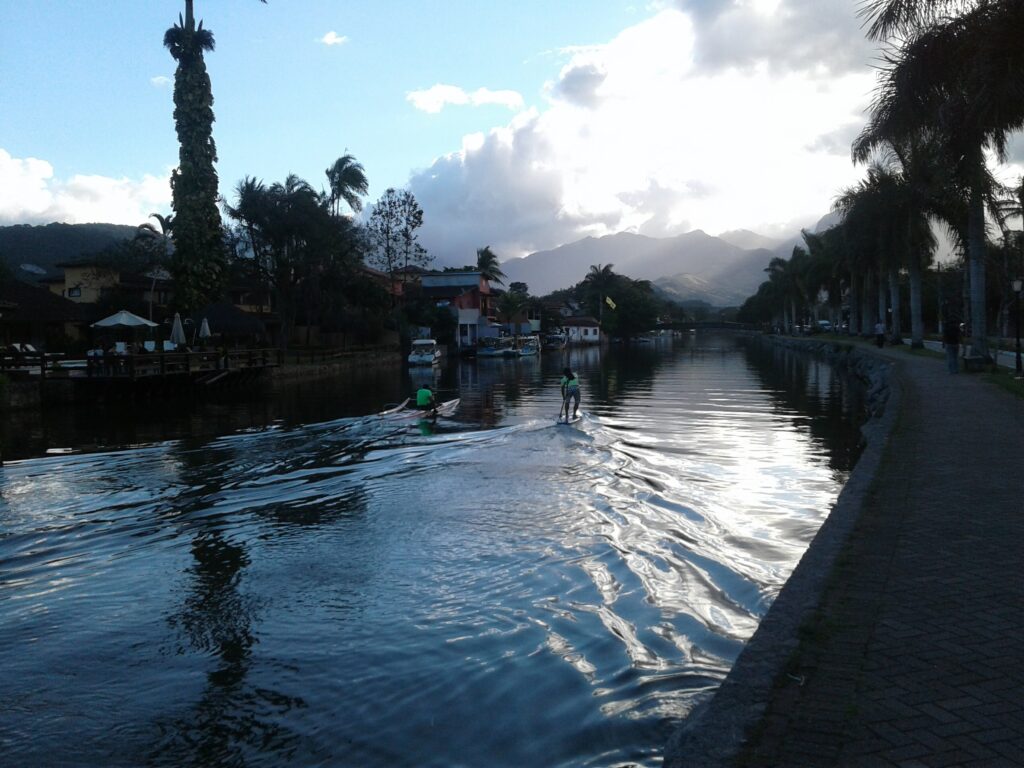 I am going to miss Paraty, it is a restful place and the nice hostel I have stayed the whole time I have been here.