After the amazing day yesterday wasn't sure what could top this. After spending the day with such lovely people and making friends with a couple of them that spoke English, Cho and Nick I wasn't sure what to could top that. After making fast friends with Cho, he was trying to talk me into jumping in to a car that he had rented to tour the area the next day. I wasn't sure, I liked Cho, but didn't know him that well and was a little bit worried about being out in the wild on own. He talked me into meeting some of his friends in the car. I meet one of them and took a disliking to the guy straight away. He was a new kind of ass hole that I had never meet before. The backpacker hipster. This is a person, that "always knows best" as they read something online and can do it better for cheaper. When you talk to a backpacker hipster as explain that they is a much easier and safer way of doing the thing they want to do, they turn up there nose at you and laugh. I decided I didn't want to spend anytime with this guy so I told Cho that I was out. Cho seemed to have second throught about spending any time with this asshole and said he would do a tour with me. He only had one day left and he really wanted to do a tour of brazil's tallest waterfall. This was the tour that I wanted to do as well, so we set out together to find a tour that would do it. This was harder than we thought and many of the companies didn't speak English, but Cho helped as a translator. We ended up that the tour company that we went on the tour with that day and they explained that they didn't have a tour running to the waterfall, but if we could find 3 people to go, they would run a private tour. As there were only two of us, we thought we were out of luck. On last chance, we went into tourist information centre, where we bumped into a family (parents and 19 year old guy) from tour we had had that day. Nick's parents were not interested in doing another tour, but just look around the town the next day. This meant that Nick had nothing to do, so we grabbed him and booked the tour. We managed to book a tour with the same guide for the 3 of us. New friends we enjoyed some pizzas and beers and had an early night.
To see the tallest water fall, you first had to do a pretty heavy duty climb to the top of a mountain. Getting to the base of the mountain, at 10:30, we started the climb. It was extremely hard going with the rocks being hard to climb over. It was 28 degrees out in the sun and I was really struggling. I had to stop every 10 minutes, as I found myself overheating a lot. But Cho, NIck and Daniel wouldn't let me give up and just to go out my own pace. Once I slowed down, things got a lot better and after a while I got used to the climb and everything was fine. However, it didn't help that was wearing shoes without grip (running shoes) that meant I slipped around a lot. I couldn't have been happier getting to the top.

At the top, to get a view of the waterfall, you have to hang over the edge to look at the waterfall. I didn't like this, but I was bricking it the whole time. As we had befriended daniel, he said that the top was too full of tour groups and took us to another area to eat lunch. Eating it in peace was amazing, as the climb was hard. I had a chance to talk to Daniel and nick. They explained that people don't really drink in brazil and they everyone grows and smokes weed. Also Nick explained that in brazilian cities you are never safe. That the feeling of being in danger is always there and that you just get used to it.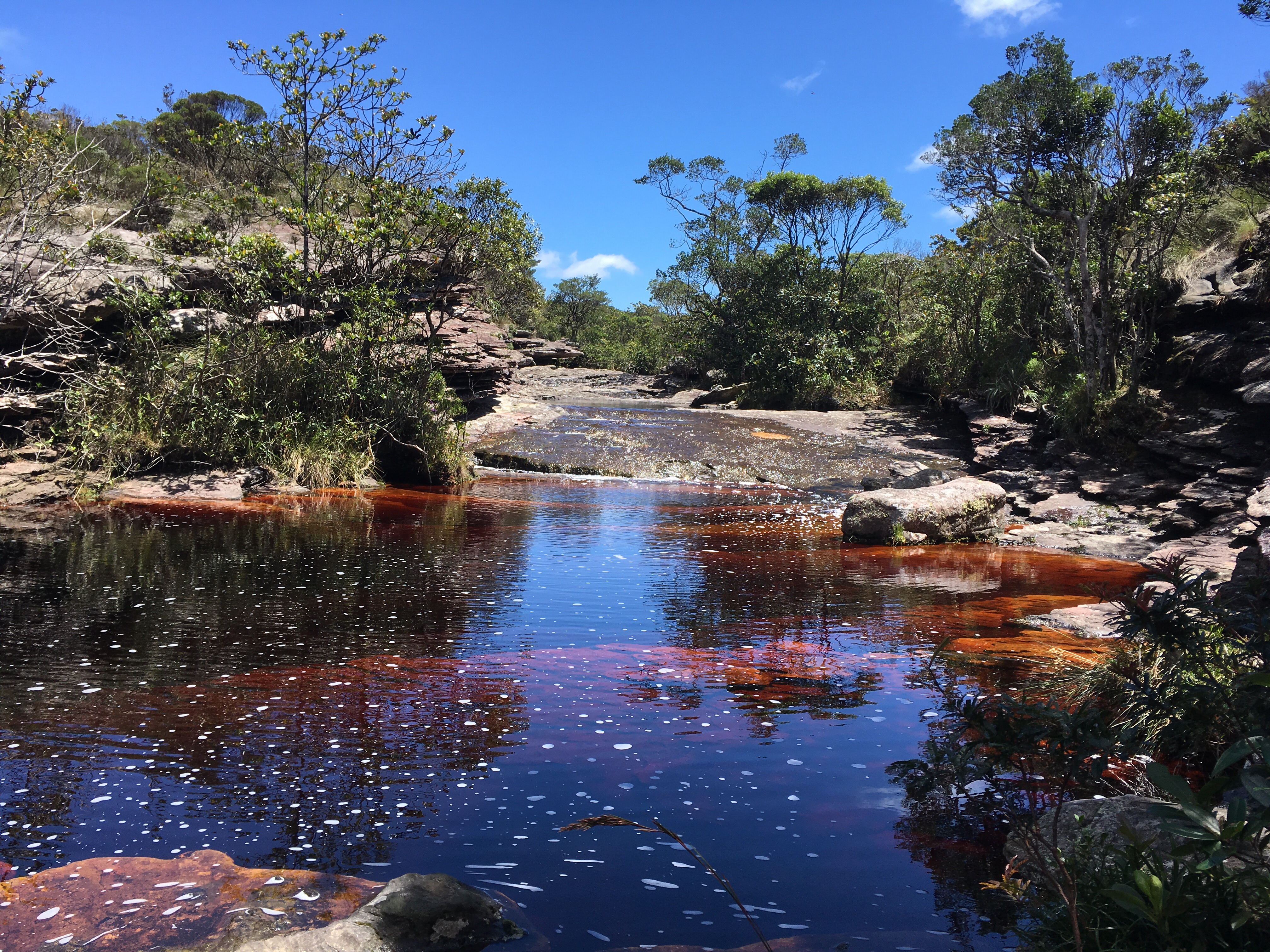 After lunch we hiked to another part of the mountain to look at the waterfall side on. Well worth it, as you can see the effect of the high waterfall. The waterfall is so high, the water next hits the ground. It is converted into water vapour and then goes up and covers the top of the maintain. Walking around this area, feels like it is raining.
We climbed down a different route, where daniel explained the history of the area, that was a mining town for diamonds not to long ago. That one american who loved the area stepped in and made the government make it a protected area and stop mining. The climb down was a taxing as the climb up and we sat for while eating sugar cane treats and drinking coconut water to rebuild strength.
The final stop of the day, was another waterfall where we could swim. It was amazing to wash the dried sweat off and get cool. I tested out the waterproof case for my iphone and took a self in the waterfall.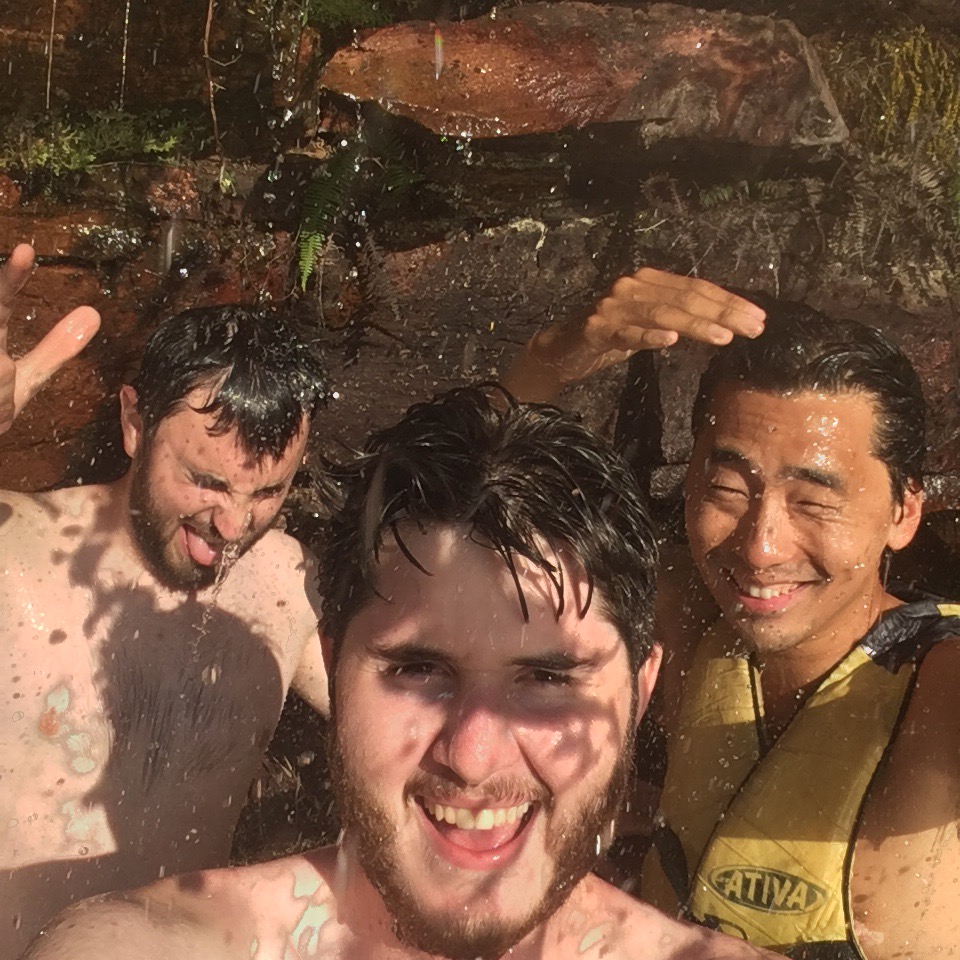 Completely spent again, got back to the town, said a heartfelt goodbye to my new friends and went to sleep. However I was unable to, as my hostel was located in the centre of town and the local entertain was in full swing. After 2 hours of trying to sleep, I lost it and ranted at my host. I explained that music was doing my nut in and that if something wasn't done, that I would be leaving without paying. After that I was transfer room and I slept for 10 hours.
What an amazing day!